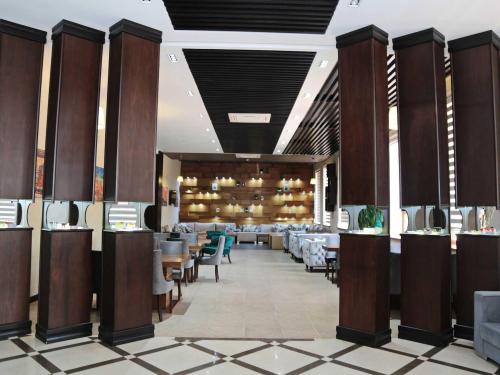 Lobby bar

We invite you to try a wide menu of A La Carte, enjoy a cup of tea or Italian coffee with fresh pastries from our own patisserie, relaxing in the super comfortable sofas of lobby bar of the hotel.
A buffet breakfast is served for all from 07:00 till 10:30 on weekdays and from 07:00 till 11:00 on the weekends. In the buffet you will find a great choice of confectioneries, as well as a variety of fresh fruits and meat cuts. In addition, we will serve you an excellent omelet from eggs, which you choose yourself.
Regardless, whether you meet with your business partners or just want to eat deliciously - business lunch is an ideal value for money. Served on weekdays from 12:00 till 16:00.
The lobby bar is open around the clock and offers an extensive variety of international dishes and local cuisine.

Come necessarily, because it is so cozy here!

Room service

For our beloved guests who do not wish to leave the warm atmosphere of the room, we offer a room service. At any time of the day, you can order a variety of dishes, snacks, desserts and drinks from the Room service menu, which are in every room.

Summer terrace

During the warmer time of the year, guests can relax in the hotel's summer terrace, drinking soft beverages and cocktails. The summer terrace is open daily from 20:00 to 02:00.

Catering
Guests who wish to treat their partners, friends and colleagues deliciously, but do not have such opportunities, we are more than happy to organize catering services. We will process each request individually and deliver the order on time, be it a coffee break or an exquisite dinner.